Weekly Round[s] Up: September 18-24, 2023
Things are picking up here in Washington as we get back in the swing of being in session. I was able to see so many South Dakotans this past week from each side of the state and many places in between. We talked about consolidation in the meat packing industry, immigration and the H-2B program, Avian Influenza and cybersecurity. In between meeting with South Dakotans, I attended hearings, classified briefings and other meetings. It was a busy week, and we have a couple of busy weeks ahead, as well. More on that in my Weekly Round[s] Up:
South Dakota groups I visited with: Members of the Livestock Marketing Association; members of the National Turkey Federation; members of the National Association of Trailer Manufacturers; Associated General Contractors of South Dakota; leaders from Impact Aid schools in South Dakota; and Dr. José-Marie Griffiths, President of Dakota State University.
Met with South Dakotans from: Batesland, Beresford, Bonesteel, Box Elder, Canton, Chamberlain, Custer, Dupree, Fort Pierre, Huron, Lake Andes, Lead, Madison, Martin, McIntosh, McLaughlin, Mission, Mobridge, Pierre, Philip, Rapid City, Sioux Falls, Sisseton, St. Onge, Timber Lake, Tyndall, Wagner, Wall, Webster and Winner.
Meetings this past week: Cara Abercrombie, nominee for Assistant Secretary of Defense; members of the National Independent Automobile Dealers Association; Dragos Tudorache, member of the European Parliament; Chris Cartwright, President and CEO of TransUnion; Derek Chollet, nominee for Under Secretary of Defense for Policy; Ukrainian President Volodymyr Zelenskyy; Mitch Krebs, CEO of Coeur Mining; and HRH Al Hussein Bin Abdullah II, Crown Prince of Jordan.
I had many opportunities to do one of my favorite things this week: talk about Artificial Intelligence (AI)! I gave the keynote address at the Global Emerging Technology Summit and spoke at an event hosted by the National Science Foundation. I also participated in an AI panel hosted by DLA Piper.
We also had our weekly Senate Bible Study (Matthew 22:21 was our verse of the week) and our weekly Senate Prayer Breakfast (Senator Amy Klobuchar of Minnesota was our speaker).
Greatest Generation Commemorative Coin Act: My bipartisan bill, the Greatest Generation Commemorative Coin Act, was signed into law last July. This bill authorized the creation of commemorative coins to be produced and sold by the U.S. Mint. The proceeds will go to the Friends of the National World War II Memorial to perform necessary maintenance and repair work at the memorial and provide enhanced educational and commemorative programming to the millions of people who visit annually.
This past week, we unveiled the designs for the coins in a ceremony at the National World War II Memorial here in Washington. You can view the designs and read more about the coins here.
Headline of the week: Rounds introduces bills to enhance cyber resources for rural, ag communities – Rapid City Journal
Votes taken: 11 – Most notable was our vote to confirm Gen. C.Q. Brown as Chairman of the Joint Chiefs of Staff. I voted yes to confirm his nomination. 
Hearings: Two – one in the Select Committee on Intelligence, and one in Banking, Housing and Urban Affairs. Our Banking committee hearing was on Artificial Intelligence in Financial Services, where I was able to give the opening remarks. You can watch a clip of that here.
Topic discussed: The biggest talk on Capitol Hill this past week was related to the potential government shutdown, with government funding set to expire after September 30. Government shutdowns have a negative impact on American families and our military. This coming week, the Senate will vote on a short-term funding bill that will keep the government funded for an additional 45 days. This would allow both Chambers of Congress time to work through the appropriations process. The Senate Appropriations Committee has already passed all 12 appropriations bill out of committee on a bipartisan basis. We expect that all these bills will come to the floor for votes in the coming weeks.
Overall, this situation underscores the need to reform the entire budget process, which has only worked properly in four of the past forty-seven years. While we can all agree that we need to get a handle on government spending and our national debt, shutting down the government is not the way to go about it.
Classified briefings: Two – both of these were related to the ongoing conflict in Ukraine.  
My staff in South Dakota visited: Aberdeen, Brandon, Brookings, Chamberlain, Rapid City and Sioux Falls.
Steps taken this past week: 56,514 steps or 25.6 miles.
Photo of the Week: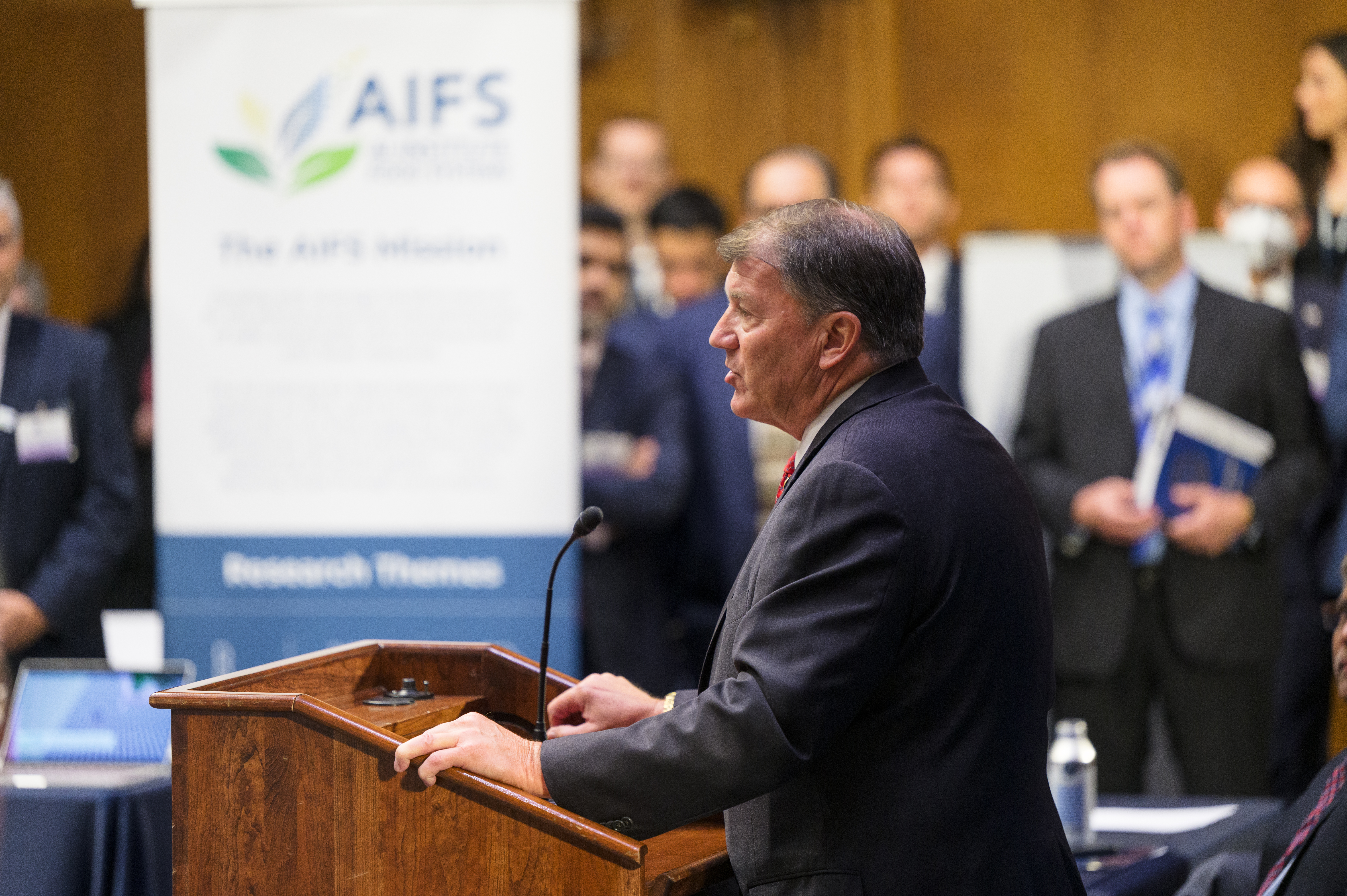 Speaking at the National Science Foundation's AI Event