Weekly Round[s] Up: June 5-11, 2023
(You might want to read the second paragraph before reading this first one!) Welcome back to another edition of the Weekly Round[s] Up, your go-to source for all the latest happenings from your United States Senator. It's been a busy week packed with meaningful interactions, insightful hearings, and some fascinating discussions on the ever-evolving world of artificial intelligence. From connecting with you, the incredible constituents of South Dakota, to diving deep into the pressing issues that affect us all, I've been hard at work representing your interests in Washington, D.C. So grab a cup of coffee, sit back and let's dive into the highlights of the week together.
Confession: I didn't write the paragraph above. Since I had multiple meetings, summits and discussions about artificial intelligence (AI) this past week (and have for the past several weeks), I thought it would only be fitting to give ChatGPT the opportunity to write the usual introductory paragraph. This is just one example of how AI can be used in everyday settings to make our lives easier, but also an example of how easily it learns: it only needed two prompts to sound believable enough to be used, down to the comment about coffee, which I drink quite a bit of during these busy weeks. Anyway, I won't repeat the obvious… ChatGPT already told you what's ahead. Here's my Weekly Round[s] Up:
South Dakota groups I visited with: Justin Tupper, President of the United States Cattlemen's Association, and his wife Brooke (both fellow South Dakotans from St. Onge!); South Dakota members of Growth Energy, including representatives from POET and Lallemand; RF Buche and members of the National Grocers Association; Members of the South Dakota Home Builders Association; Drew Edleman and Kelsey Geraets with the South Dakota Cattlemen's Association; and Students from St. Thomas More High School in Rapid City who visited DC this past week.
Meetings this past week: Jessica Lewis, Department of State's Assistant Secretary for Political and Military Affairs; Gen. C.Q. Brown, current Chief of Staff of the Air Force and nominee to be the Chairman of the Joint Chiefs of Staff; Eric Schmidt, former CEO of Google and leading expert on AI; and Lt. Gen. Tim Haugh, nominee for head of U.S. Cyber Command and the National Security Agency (NSA).
As I mentioned in the opening, this past week was heavy on the AI front. I attended Scale AI's Government Summit this week, titled "AI in the Era of Strategic Competition," and spoke at a fireside chat with Senator Mark Warner (D-Va.), who is chair of the Select Committee on Intelligence, and Scale AI CEO Alex Wang. I also discussed AI on a panel at Amazon Web Service's Worldwide Public Sector Summit this past week. I also attended a bipartisan Senators AI roundtable, hosted by the Senate Select Committee on Intelligence. The purpose of this series of discussions is to enhance our understanding of the growing field as we begin to discuss regulations on the industry. Additionally, I am leading a bipartisan AI working group with Majority Leader Chuck Schumer (D-N.Y.) and Senators Martin Heinrich (D-N.M.) and Todd Young (R-Ind.). We will be hosting three educational sessions for members of the United States Senate on the topic of AI. Our goal is to unite the Senate in a bipartisan way to address the challenges and opportunities posed by AI.
Met with South Dakotans from: Aberdeen, Brookings, Chancellor, Colton, Harrisburg, Madison, Rapid City, Sioux Falls, Spearfish, St. Onge, Wagner and Willow Lake.
Topics discussed: Issues facing South Dakota's ranchers, ethanol production, AI and the upcoming National Defense Authorization Act (NDAA), the annual defense appropriations bill that I work on as part of my work in the Senate Armed Services Committee (SASC).
Votes taken: 6 – all of these were on nominees to positions in the executive and judicial branches.
Hearings: One in the Select Committee on Intelligence.
Classified briefings: We had our bi-weekly cyber education seminar.
My staff in South Dakota visited: Aberdeen, Andover, Brookings, Fort Pierre, Fort Thompson, Huron, Milbank, Mitchell, New Underwood, Phillip and Wessington Springs.
Steps taken this week: 55,818 steps or 25.25 miles.
Photos of the Week:
Students from St. Thomas More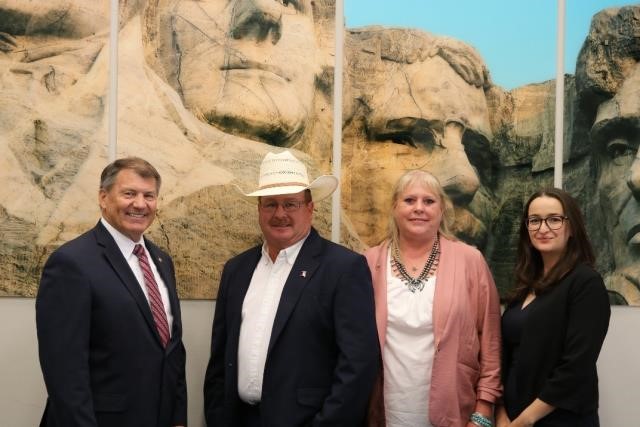 Justin Tupper, President of USCA, his wife Brooke, and Lia with USCA.